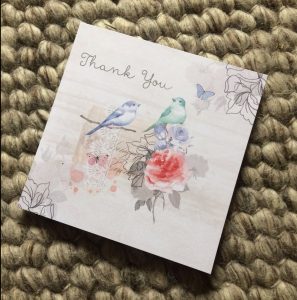 It's nearing the end of the school year and, exhausted as we are, I bet that most of us are actually feeling pretty nostalgic about it already.
Why?
Because this is the point in the year where some of our students say, "Thank you!"
It might be that they randomly drop by our classroom or desk, grunt or lurk about and then disappear. It might be that they write us a card that magically appears on our desks or in our pigeon holes.
Maybe they even go the whole hog and buy us a little gift.
We can't even predict which students it will be. Sometimes there's a student who's sat silently at the back of the classroom all year and then, suddenly at the end, sends the most beautiful card with a message about how much their lessons have meant to them this year. Sometimes, the naughtiest of students  (see my post about jelly babies being naughty but nice!) will awkwardly sidle in because they want a hug! One of my students last year came and found me (bringing his mum along) because he said he couldn't leave the school without giving me a hug.
These great big tough sixteen year olds are such softies.
Whilst all of these things are lovely, in that they make us feel appreciated in what can be a thankless vortex, the words of students remind us why we do this job, day in day out.
This week I received an email from a student who wanted to say thank you but was too overwhelmed in person. Some of
the things they said, I'll never forget:
"Having you as my English teacher has been one of the best experiences throughout my college life, not only have you listened to me but you have helped me to develop into a good person. You are an amazing teacher but the best bit is that you are not just a teacher to me, you took the time to get to know about my life and about me as an individual and you cared and that meant so much to me."
We really care about our students and we want them to get the best exam results they can. Why? So they can have a wide variety of life options ahead of them. They can make choices about what they want to do.
The most important thing, however, is that we help our students become the best version of themselves that they can be.
The most important thing is that we model to them how they can be kind, caring, compassionate grown ups who respect and love others rightly.
Goodbyes are never nice but goodbyes like these are special and mean something to us.
This is why we do our job.