It's customary, I know, to get students back into the swing of things with a swift run through the rules and classroom expectations.
We've all seen powerpoint after powerpoint with lists of rules or, for the more open-minded, questions allowing classes to come up with their classroom expectations.
I won't be starting term that way. In fact, I already haven't started the year that way at all. I really don't like it.
Rules as a starting point assumes disobedience – it shows students that we think they will be naughty. More than that, it creates a 'you versus me' situation, where students have to follow the rules because I am an authoritarian educative figure.
Doesn't that sound at the very least somewhat Dickensian?
"You have to do these things, otherwise there will be punishments, many, many punishments."
It's hardly a welcome back, is it?
If I'm not going to do that, perhaps the real question then is: what am I actually going to do?
Well, I intend to introduce myself.
That is not a short biography, nor a long one full of personal anecdotes or pictures of my cats (though I can assure you that I have plenty of those). Rather, I'm going to talk them through who I am and what I'm like.
The place I start is with the truth, that I've liked all but two of the thousands of students I've taught so I genuinely look forward to getting to know them AND like them. Here I do give a little anecdote about one of the students I didn't really like, namely that he threatened to kill me and then key my car. I'm still not sure why he made those threats in that order…
Next, I tell them the things that are important to me (as a person and as a teacher):
I have a strong personality and that can't and won't change, certainly not quickly, so they need to know it because I'm predictable!
I have high expectations of myself, expecting that I will respect others and work really hard for my students.
As I have high personal expectations, I will definitely expect reciprocity. My high expectations extend to them in every way.
Mistakes happen. I will say sorry when I make mistakes and will never hold a grudge once someone apologises to me.
Lying is a game changer. Relationships are built on trust. When I'm lied to, the relationship is damaged and it means I can't always make good decisions because I won't know what to believe.
This takes time to run through but I always think it's worth it, adding anecdotes and examples as I go or asking students why they think lying is THE big deal in my classroom.
I won't be laying down the law, I'll be telling them who I am and then who we are as a TEAM. This is the key for me. For the next year, we'll be a team helping each other to be the best version of ourselves and, hopefully, ameliorating their English. For this to happen, I need to get to know them too. Instead of laying down the law, I tell them that I want to get to know them so that we can work together well.
Obviously, they can't all give presentations about their key personality traits. They definitely wouldn't want to!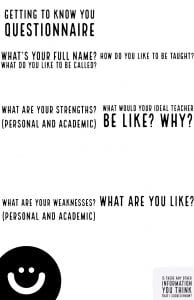 What they can do is fill in a questionnaire telling me about themselves. I won't bore you with the details here as I've blogged about how to run through the questionnaire before, but I will stress the need to go through it slowly, giving students examples of the information you'd like in each box so that it's actually helpful. While I'm running through it, I even try to learn their names as a bit of a party trick and to consolidate this idea that I care and want to know them as part of our team.
In not laying down the law but, rather, getting to know each other, I swear it makes for an easier ride…