With our open evening looming, strict instructions came our way to tidy up our rooms and make sure our displays are on point.
Having just moved to a new school, lots of the displays weren't mine and, as such, weren't really me.
Don't get me wrong, I love an attractive, informative display as much as anyone with OCD can! I do. What I don't have is the liberty of only having beautiful displays on the texts we study.
Setting yourself up in a new school requires more effort and energy than being established and one of the ways I thought to help myself was through my displays. Putting student work up and naming them could perhaps inspire them to work harder and, also, build relationships that encourage better behaviour more long term.
With this in mind, I got down to making my displays. There's the obligatory: how can I aim for a five? how can I aim for a nine?
I made space to stick students' work to the laminated posters, as well as summarising the exams we'll have.
What made me more excited and what I think will work better though was the behaviour management board. Here I made posters for:
Most improved behaviour;
The most impressive student;
Work of the week;
The student whose parents will receive a positive phone call home this week.
In this way, I really hope that I'll be able to get all my students on board with my aim: that we have a great time together in our lessons, learning as a team.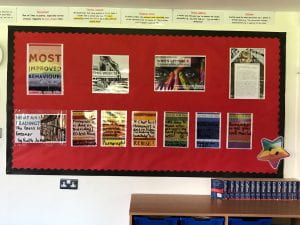 The final part of the display was to create a small poster through which to communicate with each class. No one can say that they didn't know when the homework was due in. Everyone can see when the assessment is. Reminders are in an obvious place. I can tell students from the class to pop and see me (in case I forget in person!).
And I really intend to use them, jotting down the names of the students who deserve to be there and taking the time to praise students who make it onto the board. I might even hook out some prizes for the students on the wall of fame.
Hey presto! Displays that suit me as a new member of staff…
Do let me know what you think – how I could improve or add to them!
English Posters How Can I Get A Grade Five_ (1) How Can I Get A Grade Five_ How Can I Get A Grade Nine_ Copy How Can I Get A Grade Nine_ Most Impressive Student Most Improved Behaviour Notes For 7X1 Notes For 7Y2 Notes For 8Y2 Notes For 9X1 Notes For 11X1 Notes For 11Y1 Positive Parent Phone Call Take A Book To Read! What Am I Reading_ Work Of The Week